Despite the competition from instant messaging applications, SMS is still popular. Simple and practical, they remain the only free means of communication that works without an internet connection. With an opening rate that is close to 100%, they have become an unavoidable ally for customer satisfaction surveys or other polls.
Why do you need SMS? What types of questionnaires should be sent via this channel? What strategies to collect the maximum number of responses via SMS? We tell you everything!
The advantages of SMS for your questionnaires
Of all the distribution channels, SMS is by far the most engaging:
SMS has a 209% higher response rate than phone, email or Facebook.
A 98% open rate, 5 times higher than email.
90% of SMS messages are read within 3 minutes of receipt.
It takes an average of 90 seconds for a person to respond to an SMS versus 90 minutes for an email.
It is clear that to collect the maximum of data on your customers and in record time, the SMS remains the perfect tool.
Also read 5 techniques to identify customer pain points
Types of questionnaires to send by SMS
The excellent engagement rate of SMS lies in its short format that leaves no room for frills. The questionnaires remain direct and concise. This makes them compatible with customer satisfaction surveys and the inherent scores:
These surveys contain, in general, 1-2 questions simply asking the recipient to record their experience with a company. The answers are equally short and usually offer a scale of numbers or feelings.

For in-depth studies, invite the consumer to respond by embedding links in SMS messages. These links should take the recipient to a page containing the questionnaires.
You can also make interviews via SMS for surveys. The questionnaires remain the same as an online survey but use short answers. Each answer will allow to filter the following SMS questions and/or to vary their wording.
Also read: Mobile app: 7 tips for creating a successful landing page
Best practices for distributing questionnaires (and getting feedback!)
Here are a few tips on how to effectively distribute your surveys:
1. Your SMS should be targeted to specific customers
To increase the performance of your campaigns, avoid mass SMS. This will also allow you to personalize your messages.
The recipient must recognize himself in the SMS he receives. To this end, consider including his name in the content.
Also read: SMS Marketing: the dos and don'ts of your campaign
2. Your company must be clearly identifiable
Ideally, the customer should also identify your brand as the sender of the message. So, instead of switchboard numbers, use your company name to increase the chances of being opened.
3. You must add an unsubscribe number
The law states that you must give customers the option to exit the conversation or unsubscribe at any time. Add the number that allows recipients to notify you that they no longer want to receive your SMS.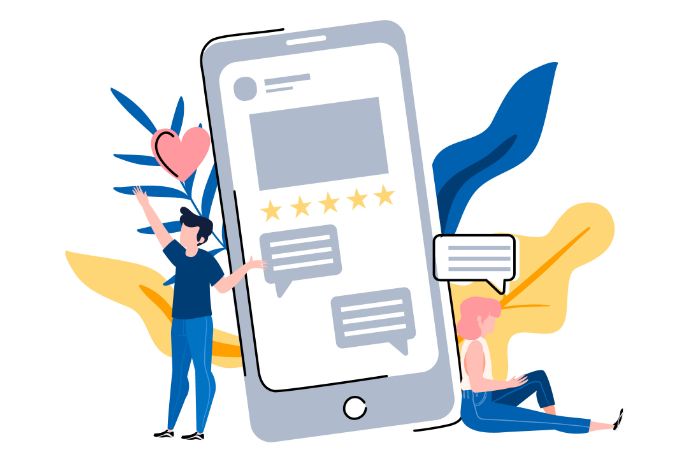 4. Your SMS messages must be timely
When is the right time to send your questionnaires?
The European regulation on SMS Marketing imposes sending times : between 8 and 21 hours and no sending on Sundays and holidays. This still leaves you with some very interesting time slots such as lunch and afterwork.
For customer satisfaction surveys, questions should be sent Immediately following the service interaction. For the rest, analyze the performance of your previous campaigns to identify the right schedule for your targets.
Also read Top 10 best tools to create an online questionnaire
5. Keep SMS questionnaires short and to the point
If it is an invitation to participate in an online survey, do not exceed 250 characters. Specify the nature of the survey to encourage the client to give you time. In fact, if possible, indicate the time required to complete the questionnaire and/or the number of questions.
Also read: SMS Marketing: 5 ways to improve the customer experience with this strategy
The numbers on SMS effectiveness speak for themselves! Take advantage of this channel to improve your offers and your customer service, with the aim of increasing your consumers' satisfaction. However, make sure that the entire questionnaire is optimized for mobile, call on professionals to develop your mobile landing page.